Mint Condition PROVEN WT6000 - 6kW
Used Proven WT-6000
Wind Turbine For Sale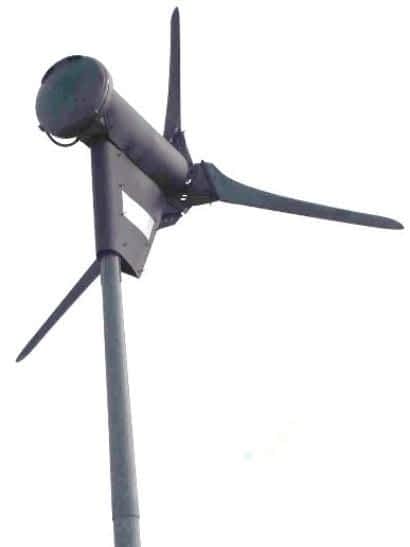 This mint condition, high performance Proven WT6000 - 6kW Residential Wind Turbine is immediately available for sale to the highest bidder. Due to high demand and low availability, this hard to get turbine is a work-horse in its class and just become available for sale due to poor siting, installed and operating in a very low wind regime area with a very low and poor yearly average wind speed of only 4m/sec.  Due to this fact, this turbine has never been driven hard and only produced 30,000kwH since installation in 2007 to date. Comparable to a quality second-hand car with very low mileage on the clock.
Proven WT6000 - 6kW (50Hz)
Turbine type: Proven 6 kW

Built: 2007

Nominal Output: 6kW
Usage: On-Grid or Off-Grid
Rotor diameter: 5.57 meter
Mast Height: 9 meter
Output production: Only 30,000kwH to date
Sale price contains:
Complete Turbine

9m - one section tubular steel tower

Generator

Isolation and rectification controller for Windy Boy Transformer

6kWh Windy Boy 5000A/6000A Transformer (for dual on-grid/off-grid usage)

50m cable (Generator to Transformer connection)

Controller

Technical Specifications
User Manual
Installation Instructions
Drawings
 EXTRAS:
Dismantling
Loading onto buyer's truck
Transportation/worldwide shipping
MWPS Global can assist in dismantling, transportation, worldwide shipping and installation at very competitive prices.
MWPS Global works with highly skilled dismantlers, refurbishers, and machinists. Refurbishing if requested also available. This can extend the lifetime of this turbine by at least an additional 10 years. Refurbished wind turbines offered by MWPS Limited are completely disassembled and thoroughly inspected and cleaned. Our highly experienced wind turbine refurbishment affiliates evaluate the condition of the reconditioned wind turbine and replace all wear parts. The main moving components will be reconditioned to new or better than new standards. The controls, gearbox, hub, generator, hydraulic system are all thoroughly reconditioned and are either restored or replaced. All refurbished wind turbines come with a full technical report of the reconditioning work undertaken.
---
PLEASE NOTE
Inspection can be arranged after signing a Letter Of Intent

Tire kickers and time wasters may not apply!
---